Secrets of Launching a Stellar School Year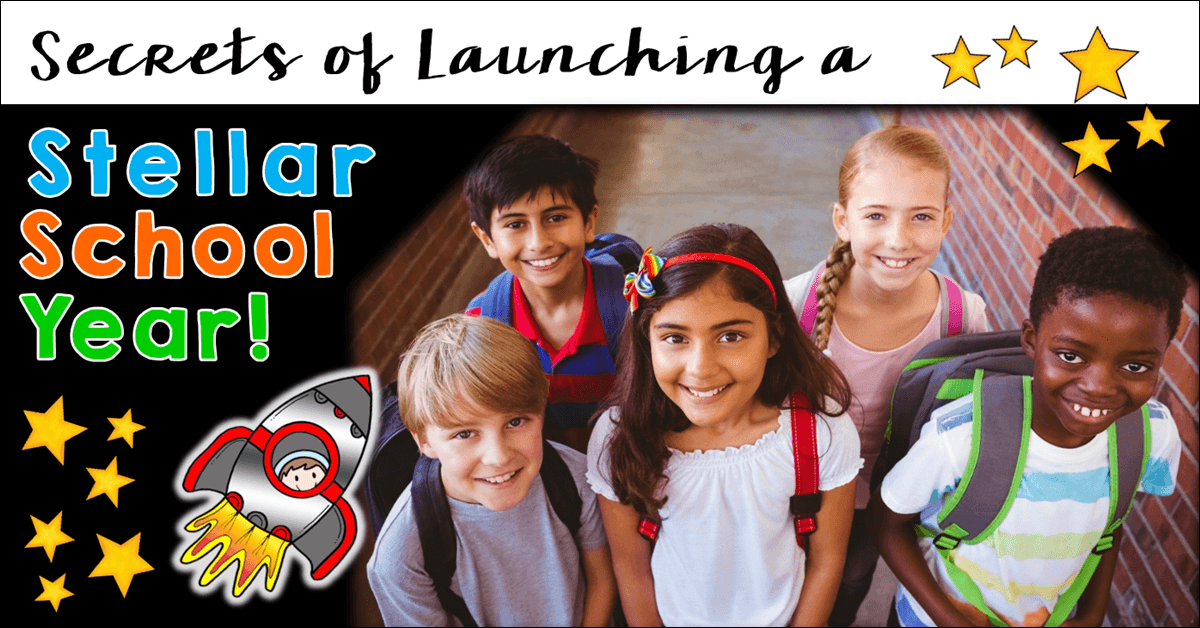 What if you could walk into the class of your dreams this year? Of course you'd jump at the chance! But what does that mean? What would your "dream class" be like? Would the students be self-motivated and excited about learning? Would they treat each other with kindness and respect? Might you look forward to Monday mornings instead of dreading them????
Believe it or not, this year's class could be your dream class. In fact, the secret to having an amazing class might be directly tied to what you do during the first week of school, and it might not have much to do with who's assigned to your classroom roster!
Consider this: When you know how to unlock the amazing potential in every student, magic happens in the classroom!
I know from personal experience that what teachers say and do during the first week of school sets the tone for the rest of the year. Unfortunately, it took me YEARS to figure out how to launch a great school year, and it wasn't always easy. I knew it was essential to get the school year off to a great start from day one, but I had so many unanswered questions about the right way to accomplish this. How can we find the right balance between being friendly and setting clear expectations? Should we seat our students in rows or in cooperative learning teams on the first day of school? Is it true that we shouldn't crack a smile until Christmas?
After years of trying different strategies during the first week of school, I finally nailed down a system that really works. In the process, I discovered that it's actually a lot easier than you might imagine to create a caring classroom of students who are motivated and excited about school!
A few years ago I wrote Back to School Super Start to share these strategies, and the book is jam-packed with lessons, printables, and other goodies that will make your first weeks of school a snap! However, I know that busy teachers may not have time to read pages of written directions and spend hours trying to figure out how to implement the strategies.
How to Launch a Super School Year Free Video Course
That's why developed my free video course, How to Launch a Super School Year! I wanted to be able to share my secrets of success with others to help them avoid the problems I experienced. This four-part video training was developed from my How to Launch a Super School Year webinar. Each lesson is fast-paced and packed with practical strategies and inspiration to help you launch your best school year ever! I dive into what it means to have a "dream class," and I share specific strategies you can implement during the first week to make that dream a reality.
What You'll Learn
To find out what you can expect from this video course, download the free note-taking outlines for How to Launch a Super School Year. During this video training, you'll….
Explore the three phases of a successful school year launch
Identify the characteristics of YOUR dream class and learn how to make this a reality
Learn how creating a classroom handbook now can save you hours of time later
Discover easy-to-use classroom management techniques, including how to choose and use an effective quiet signal
Learn how to align your classroom management methods with your own core beliefs about teaching and learning
Discover ways to plan ahead for cooperative learning and how to teach social skills to your students
Find out what to do on the first day of school to ensure you have the best class ever!
Discover loads of ice breakers, name games, and other strategies for getting to know your students
Find out how to get started with academic content in reading, math, spelling, writing, science, and social studies
Click here to download these free note-taking handouts.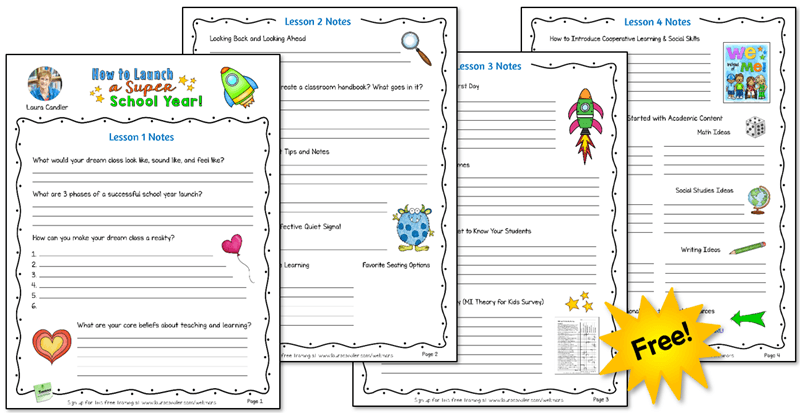 Professional Development Options
I don't offer a free PD certificate for this video training, but you can obtain one by purchasing the replay of my How to Launch a Super School Year webinar, either alone or in one of the bundles below. All three products below can be found in the Back to School category of my TpT store.

Motivating Kids to Reach for the Stars
I hope you'll sign up for How to Launch a Super School Year. Each of the four video lessons will fly by, and you'll walk away with engaging yet practical strategies that will really make a difference this year. Best of all, these strategies will motivate your students to believe in themselves so they'll want to reach for the stars this year!