Laura Candler's Odds N Ends File Cabinet
Laura Candler's Odds N Ends page is where you'll find great resources that don't fit into any other category. Many items on this page are free and do not come with directions. For activities with complete directions, check out the teaching products in my TpT store.
Multiple Intelligence Theory for Kids: Step-by-Step Lessons


Complete lesson plans, cooperative learning activities, a student survey, printables, assessments, and answer keys for teaching a unit on multiple intelligence theory. Designed for grades 4 – 6. Preview online before purchasing on TpT.


How to Fund Your Classroom Projects with DonorsChoose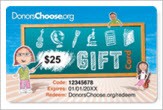 DonorsChoose (www.donorschoose.org) is an organization that helps public school teachers in the United States locate funding for their classroom projects. I hosted a webinar with 5th grade teacher Francie Kugelman in which she shared her tips for writing proposals. Francie has received over $28,000 in funding so she's definitely an expert! She also inspired me to start a community giving page where teachers help each other get their projects funded. If you are interested in watching the webinar or learning more about communities on DonorsChoose, visit the pages on my site below.
School Scrabble (Free Resources)
Tracking My Goals (Student Journal)


Grades 2 – 5
Data and goal tracking for kids! Create your own student journal by choosing from 20 different page and cover options. You can preview all page options before purchasing. Click to preview. $3.95
Featured Freebies from the Odds N Ends Files
Candler's Classroom Connections
Awesome freebies and resources for elementary educators!
| | |
| --- | --- |
| Other Free Printables and Helpful Resources | |