Halloween Word Play – Seek & Spell Fun!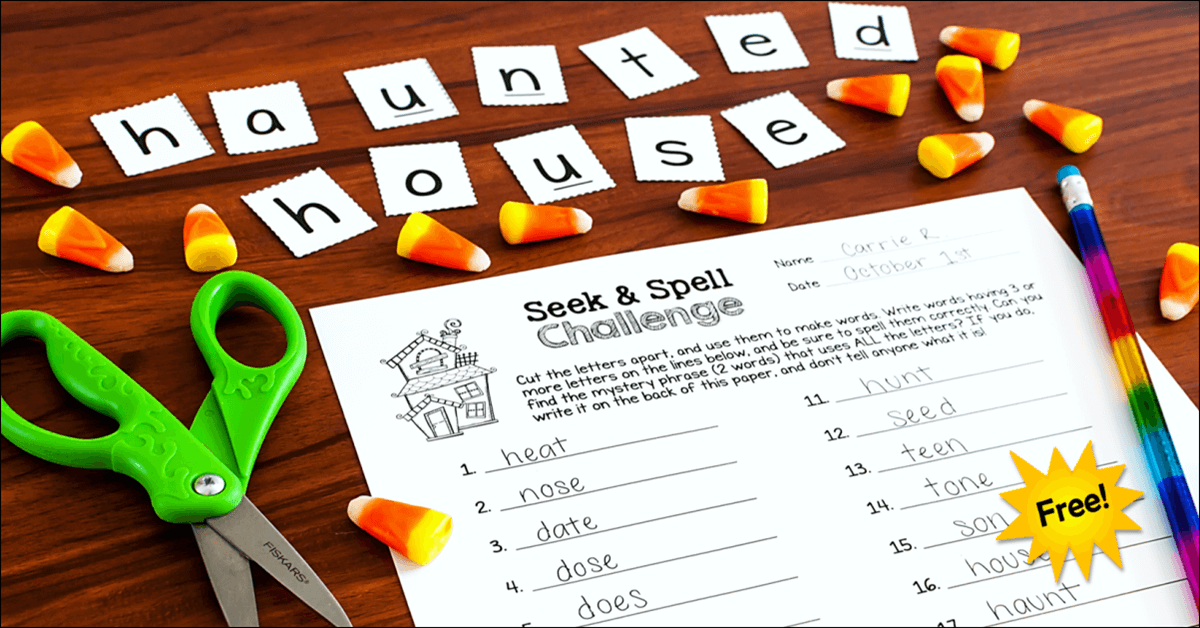 How much time do you spend each week on spelling instruction? If you're an upper elementary teacher, the answer is probably "not enough." While you might recognize the importance of phonemic awareness and phonics lessons, there's just not enough time for true spelling instruction in the upper grades. This is unfortunate because upper elementary students still need lots of practice with spelling word patterns and the basic building blocks of large words, like roots, prefixes, and suffixes.
Fortunately, there's a fun activity for building spelling skills that your kids will love so much they won't even realize it's a spelling assignment! In fact, they will BEG to play it!
Remember the word game where players try to make small words from the letters of a long word? It's really simple, and most people can easily find a handful of words with very little effort. But in order to find a lot of words, you have to dig deeper and look for word patterns, word families, root words, verb forms, prefixes, suffixes, and so on. The more you play the game, the better you become at identifying these basic building blocks of language.
A few years ago I introduced this word game to my class as a fun holiday-themed activity. I created seasonal printables similar to the Halloween Seek & Spell freebie shown above, and each printable had the letters of a seasonal word or phrase printed in block letters along the bottom edge of the page. The directions required the students to cut out the letters and physically move them around to try to form new words. Students worked for about 10 minutes on their own, and then I asked them to pair up with a partner to check each other's spelling and look for more words. Just for fun, I added a scoring system where students could earn points for correctly-spelled words. To prevent guessing, I also deducted points for words that were misspelled. Because I knew they would be able to find far more words than they could spell correctly, I encouraged them to use a spell-checker or dictionary look up any word they weren't sure how to spell.
Click HERE to request this Halloween Seek & Spell freebie!
I had no idea what to call the game, so I called it "Word Play" because that's really what my students were doing during the activity. As they moved the letters around and looked for words, they talked with their partners about the strategies they were using, like finding a root word and then adding different prefixes and suffixes. Or finding a word ending like "ake" and changing the first consonant so that it became, "bake," "rake," "snake," and so on.
This game started out as a fun activity during the holidays, but after I used it a few times I realized that it was much more than a game. Because the students were required to spell the words correctly in order to earn points, they had to pay attention to spelling. At first they were looking up 50% of the words they were adding to their lists, but eventually they stopped looking up most of the basic sight words because they knew how to spell them without checking. Yes!!!
After I realized the power of this game, I started including it in our literacy centers each week. The kids enjoyed Word Play, and I could tell they were becoming much better spellers as they played. I realized that they were also building foundational reading skills because they were learning to recognize hundreds of basic sight words quickly and easily.
The only problem was that each week I had to develop a new printable. The first few were easy, but it became increasingly difficult over time.
Word Play Becomes Seek & Spell Challenge
Fortunately, now that I'm retired, I have time to create printables and resources for teachers which I LOVE to do! Last year I decided to tackle the Word Play program, and I set out to create a whole year's worth of weekly printables. I changed the activity slightly by placing the letters of the long word in alphabetical order and calling it a "mystery word" that the students were challenged to find as they worked. As a result of this change, I renamed the activity Seek & Spell Challenge which turned out to be the perfect title. I created 4 dozen "mystery word" printables which is more than enough to have one printable each week for a year. To make the program easy to implement, I also included complete directions, checklists, and grading rubrics. The last component is a set of editable PowerPoint templates so you can create your own mystery word printables!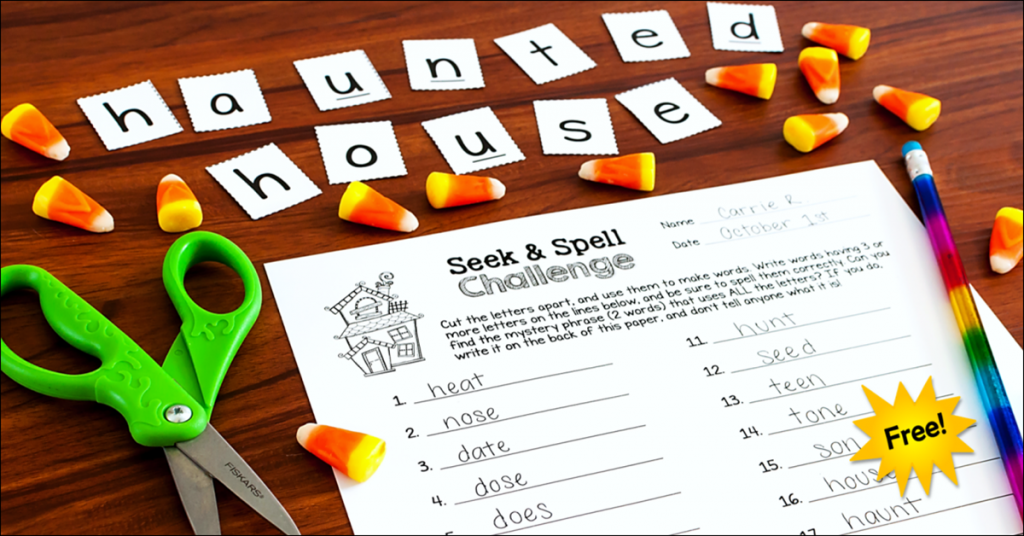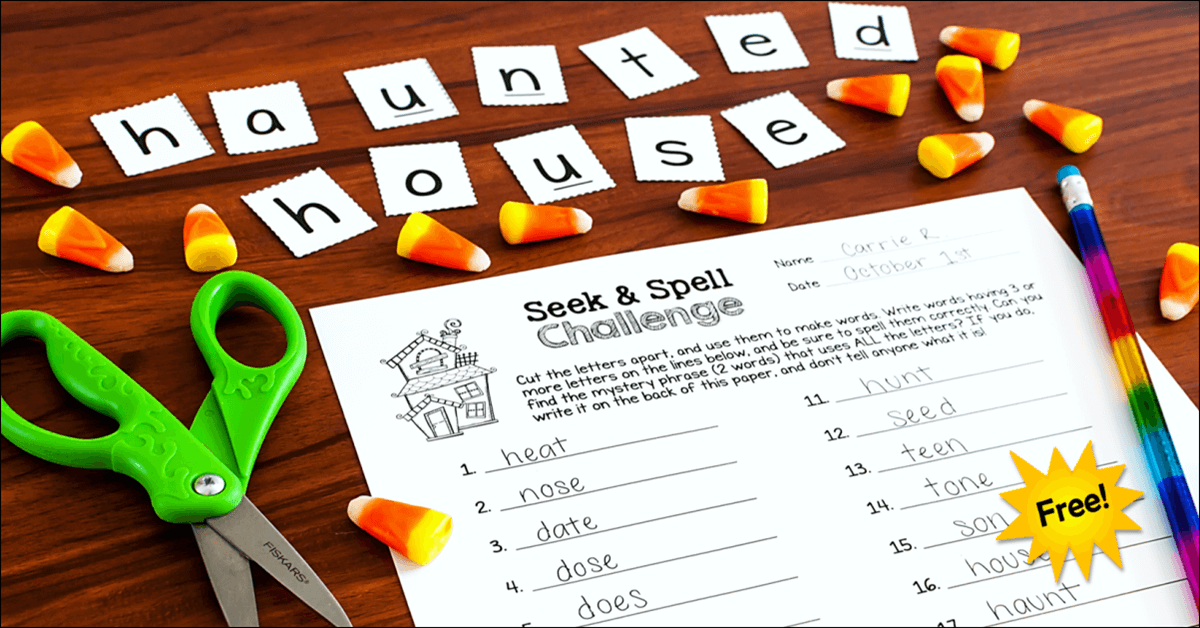 Field Tested… Teacher and Kid Approved
Because I was no longer in the classroom, I enlisted the help of about 20 teachers in grades 2 through 5 to give me feedback about the program and to test it with kids. I wanted to be sure the mystery words were appropriate and that most students would be able to find each mystery word and many other smaller words. At the request of the 2nd and 3rd grade teachers, I also created a variation of the printable that had fewer lines and larger spaces for writing.
So, how did the field testing go? I wasn't surprised that the Seek & Spell program worked, but I WAS surprised at the amazing feedback I received about the resources! These three testimonials are just a few that were shared with me, and you can read additional feedback in my TpT store.
Seek & Spell Challenge engaged my students and encouraged "real thinking" about words and their spelling. I loved watching teams of two work together and brainstorm and then check the word wall or their "quick words" for correct spelling. Having to find the "Mystery Word" was the bonus! The kids loved this concept and it provided a nice challenge for those who needed it. Manipulating the letters is important for student growth as it provides practice and exposure that they need as spellers, writers, and readers. ~ Cheryl Jordan, 2nd Grade
I love how Seek & Spell Challenge differentiates itself. Some kids will naturally focus on basic three letter words, and some will spend the whole time looking for the big word. As an educator, it allowed me to see very clear gaps in their word understandings. It was very clear to see who understood how words come together and who did not. ~ Katie Eskridge, 5th Grade
My students loved Seek & Spell Challenge! I had them work individually and then with a partner. They enjoyed comparing the words they each had made, finding those that were the same and those that were different. They saw that they could rearrange the letters in each other's "big" words and make smaller words too. I know there are similar word work activities; however, this packet is much more thoroughly put together and easier to prepare and use in the classroom. ~ Cheryl Barrios, 3rd and 4th Grade
Give Seek & Spell Challenge a Try… for Free!
If you'd like to try Seek & Spelling Challenge with your students, you can download the Halloween Seek & Spell Freebie shown in this post. It's a terrific literacy activity to use any time during October, and it's an absolute lifesaver on Halloween day! This Halloween Seek & Spell freebie is exclusively for my newsletter subscribers, but if you aren't yet a subscriber, it's not a problem! I'll add you to my email list when I send the freebie to you.
If you teach at a school where Halloween activities are not allowed, you can try my other Seek & Spell freebie which uses the compound word "gingerbread" as the mystery word. Just sign up for the Seek & Spell Halloween freebie and I'll send you a link to that one as well.
Seek & Spell Challenge is a great way to supplement any spelling program. After you try it, you might even find that this playful approach to spelling practice is far more effective than having kids memorize word lists. Not only will your students have fun as they improve their spelling skills, they'll become better readers, too! What more could you ask from a word game?