Caring Classrooms Share the Love Contest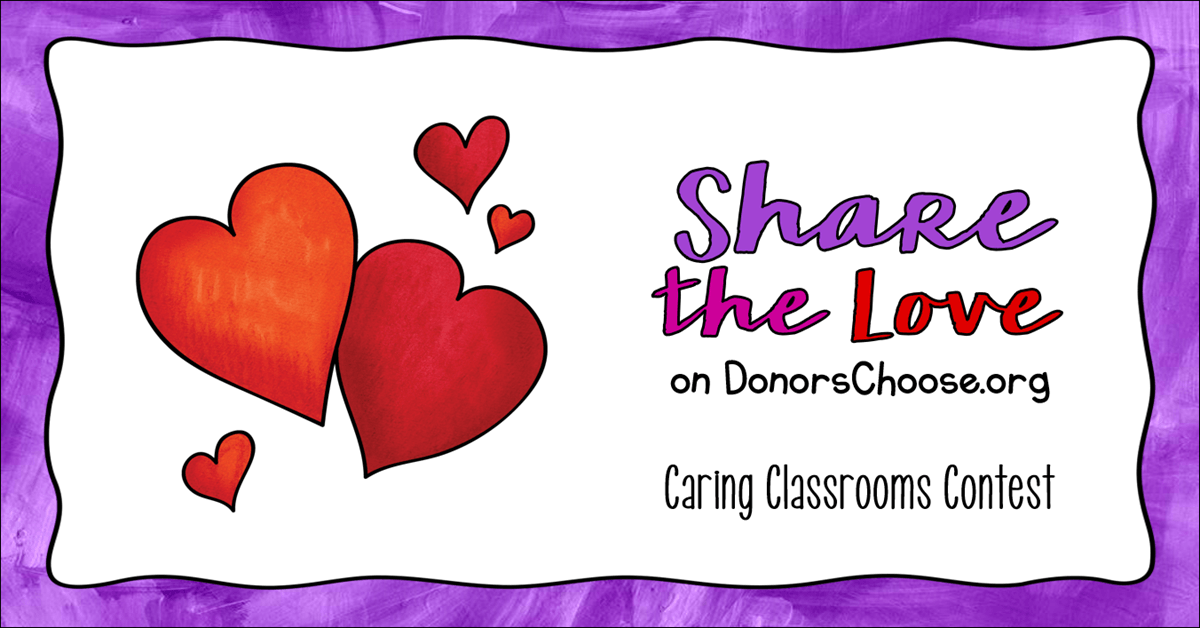 Friday is Valentine's Day which makes it the perfect day to kick off the Caring Classrooms Share the Love Contest! If you have a DonorsChoose project that needs some love, keep reading. Your project could be featured on the Caring Classrooms Giving Page and fully funded before you know it. Our Share the Love contest will begin at 6 a.m. ET on Friday, February 14th and it will run through midnight on Sunday, February 16th. We'll be giving away some awesome prizes all weekend long, including at least four spots on the Caring Classrooms Giving Page!
We're sharing the love on Pinterest, too!
Just for fun, we've decided to tweak our normal contest rules a bit, and we know you're going to love this new Pinterest twist! We've decided to pin all projects that are entered into the contest onto the Caring Classrooms Pinterest Board which has over 72,000 followers! Even better, we'll be selecting new projects for our giving page from this board through the end of February! So even if your project doesn't win a spot on our page during the contest, it could still be chosen later in the month!
Caring Classrooms Contest Prizes
Caring Classrooms Contest Details and Rules
Our Share the Love contest will start at 6 am ET on Friday, February 14th, and will end at midnight ET on Sunday, February 16th. The sooner you enter (after the contest begins on Friday), the better your chances of winning.
Before entering, you must first donate at least $5 to one project on the Caring Classrooms giving page on February 14th, 15th, or 16th.
After you donate, fill out this Google Doc entry form.
Please enter the contest only once, unless the project you submit gets fully funded before the contest ends.
How Winners Are Selected and Announced
We will select the first winners early in the day on Friday, February 14th, and we will continue to choose new winners throughout the contest as our page gets low on projects. All winners will be randomly selected from the Google Doc entries submitted up to that point.
We'll announce winners' names on the Caring Classrooms Facebook Page as they are selected and their $5 donations are confirmed.
All projects submitted during the contest will be pinned to the Caring Classrooms Featured Projects Pinterest Board. After the contest ends, each time our page gets low on projects during the month of February, we will select new projects from the ones on this Pinterest board.
Eligibility Requirements for the Winner's Project
To be added to our Caring Classrooms giving page, your project must need less than $300 to complete the funding and it must have at least 30 days left before it expires. We sometimes make an exception for projects that have fewer days remaining if the project is almost fully funded. If your project needs more than $300 and it's pinned to the Featured Project Pinterest Board, it might be selected later in the month if the amount needed drops below $300.
Questions?
If you still have questions about this contest, click over to the Caring Classrooms Facebook Community. Find our post about today's contest, and ask your question in a comment on that post. We are here to help!