Motivating Math Games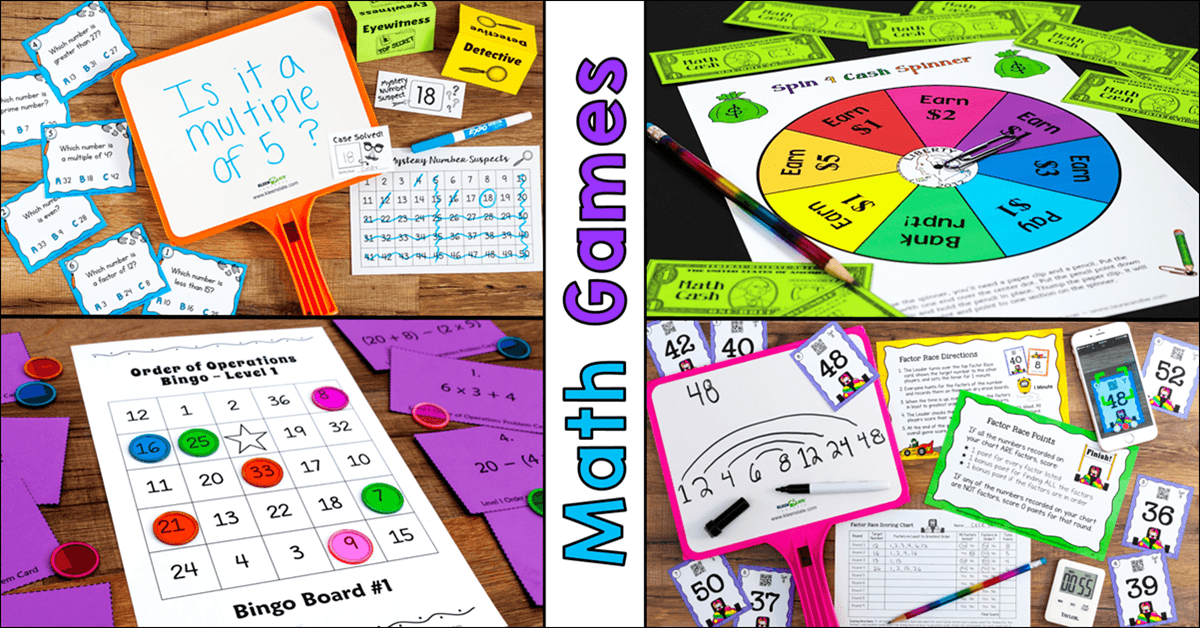 Motivating kids at the end of the year can be a challenge, especially if you're still expected to teach skills and review academic content. Whole group instruction is particularly challenging this time of year because it's so difficult to get kids to sit quietly and focus on the lesson when everyone (including you!) is hanging on until summer break!
As a former 4th and 5th grade teacher, I've been there, and I found that the best way to keep kids engaged during the last few weeks was by using math games. I love using games because they are so versatile; you can use them in math centers, cooperative learning teams, or small guided math groups. Math games give kids a chance to talk and move, but it's productive talk and movement, so playing math games is the perfect way to wrap up the school year.
Where to Find Math Games
Whether your school is still in session or you are already on summer break, this is a great time to build up your collection of math games. You can make your own, of course, but they are quite time-consuming to create. I know, because I created loads of math games for my students while I was teaching. I continued to make new math games after I left the classroom, and I've spent considerable time updating my older ones.
I love making math games, but if that's not how you want to spend YOUR weekends, consider purchasing them! If you're an upper elementary teacher, check out my Math Games Mega Bundle because it might be just what you need. This bundle includes 16 math games, and if I create new math games those games will be added to this bundle, too.
Each game is unique, which means that to really appreciate them, you need to preview them individually. If you'd like to take a closer look at the games in this bundle, click the cover images at the end of this post to find them in my TpT store. If you like all of them, you'll save over $25 by purchasing the bundle!
Tips for Teaching with Math Games
If you'd like some tips for teaching with math games, check out my post, How to Use Math Games Effectively in the Classroom. In that post, I shared some strategies and techniques for using math games as a part of your instruction rather than just for fun. I also described an easy mini-lesson on how to teach kids to be a good sport. Many of those tips and that mini-lesson are also included in my freebie, Tips for Teaching with Math Games, which you can download from my TpT store. Enjoy!