Caring Classrooms Shares the Love with a Contest!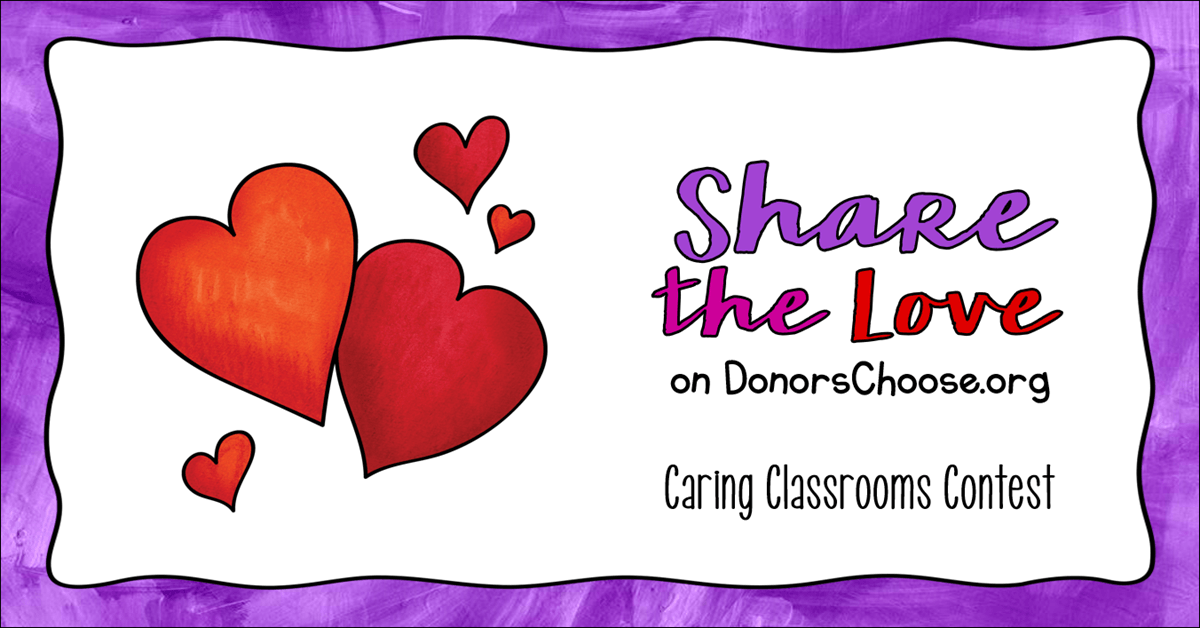 The Caring Classrooms Community on DonorsChoose.org recently reached an amazing milestone! With the help of our members and sponsors, we've raised over $500,000 for public school classrooms! Woohoo!
To celebrate this accomplishment, the Caring Classrooms Community will host a huge contest from February 10th through midnight on Valentine's Day. We'll use this event as an opportunity to "share the love" so we can help even more members of our community get resources and funding for their classrooms. In fact, we expect to have over a dozen winners who will be able to select from the prizes listed below. Check them out!
Share the Love Contest Prizes
Spots on our Giving Page – At least FIVE winners will be selected to have an eligible project featured on the Caring Classrooms Giving Page.
$50 DC Donations – TEN winners will each receive a $50 donation to a DonorsChoose.org project of their choice
Marble Run Super Sets – FOUR winners will each receive 5 Marble Run Super Sets from Marble Genius.

Share the Love Contest Details
The contest will run from the morning of February 10th through midnight on Valentine's Day. We'll begin choosing winners before the contest ends, so the earlier you enter, the better your chances of winning.
After the contest begins, donate at least $1 to one or more projects on the Caring Classrooms giving page. Donating more than $1 would be greatly appreciated, but a $1 donation is all that's required. All donations are tax-deductible.
After you donate, fill out the Google Doc form shown below.
You may only enter once, no matter how many times you donate.
How Winners Are Selected and Announced
When the giving page is down to 2 or 3 projects, we'll use Random.org to select winners randomly from the Google Doc entries.
We'll announce winners' names on the Caring Classrooms Facebook Page as they are selected and their donations are confirmed.
Eligibility Requirements for Winners' Projects
In order for a winner's project to be added to the Caring Classrooms giving page, it must need less than $400 to complete the funding and it must have at least 30 days left before it expires. However, we might make an exception for a project that has fewer days remaining if it's almost fully funded. If you select a spot on the giving page as your first choice and your project is not eligible, we'll give you your second choice if it's available.
Questions?
If you still have questions about this contest, click over to the Caring Classrooms Facebook Community. Find our post about today's contest, and ask your question in a comment on that post. We are here to help!