Boom Cards Bonanza Giveaway!
Five months ago when schools were shut down across the globe, we hoped that the pandemic would be under control by the fall. But it's clear that the pandemic isn't under control and probably won't be anytime soon, which means schools are facing unprecedented challenges as they begin a new school year.
If you'll be teaching in the classroom this fall, one of your challenges will be figuring out how to teach effectively when students have to maintain social distance. Cooperative learning lessons aren't an option right now, and students will be completing most of their assignments independently. If you'll be teaching online or using a hybrid approach, your biggest challenge will be finding resources and activities to support distance learning.
A few months ago I discovered a type of digital resource that meets both needs perfectly! Boom Cards are interactive, digital, self-checking task cards that students can complete in the classroom or at home online. Kids love Boom Cards because they are interactive and fun, and teachers love the fact that are both paperless and self-checking.
Boom Cards are hosted on the Boom Learning platform where free and premium accounts are available. They're easy to assign in Google Classroom and Seesaw, and if you have a premium account, you can view real time, detailed performance data for every student in your class.
After I began creating Boom Cards, I began to see why they're so popular. The interactive format makes it possible to create questions with clickable multiple-choice answers, fill-in-the-blank questions that require students type the answer, and drag-and-drop activities with movable pieces. Recently, my two daughters began developing Boom Cards with me, and together Wendy, Amy, and I have created 28 decks on a variety of science, math, and language arts topics. More are on the way! You can find all of our Boom Cards here in my TpT store.
Time Boom Cards Cards Sampler Freebie
If you've never used Boom Cards, the best way to understand how they work is to try them yourself. Click here to access my Time Boom Cards Sampler, a deck of 10 Boom Cards designed to help students practice telling time and solving elapsed time word problems. If you'd like to use this deck with your students, download this freebie from my TpT store and follow the directions to add it to  your Boom Cards library.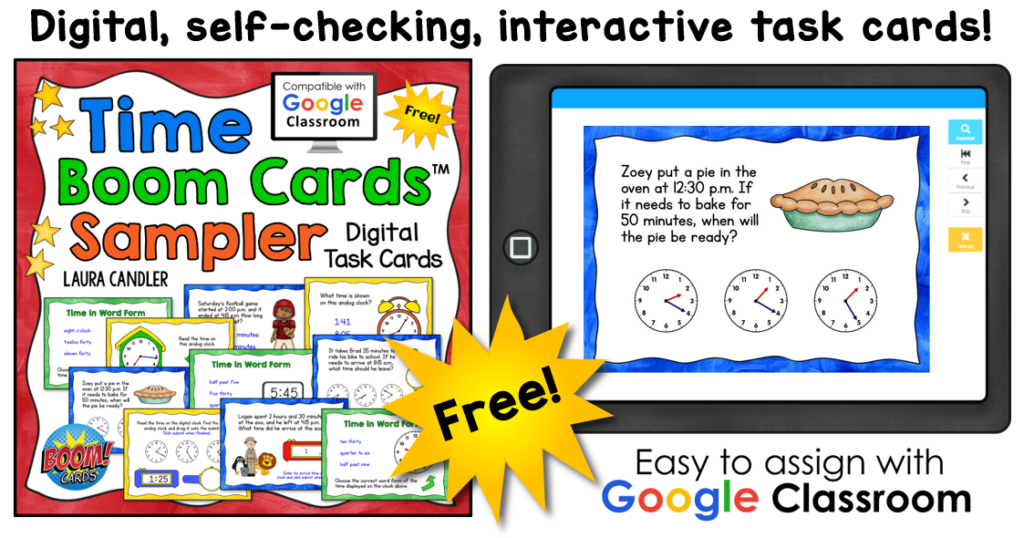 Boom Cards Bonanza Giveaway
To encourage teachers to give Boom Cards a try, I'm hosting a Boom Cards Bonanza Giveaway this weekend! I'll be giving away free decks of Boom Cards and $15 Boom Learning vouchers that can be used to purchase a one-year Basic subscription on Boom Learning. If you already have an account, you can use the voucher to stock your Boom Library.
Boom Card Bonanza Prizes (Six winners)
The grand prize winner will receive 5 free decks of Boom Cards (winner's choice), plus a $15 Boom Learning voucher.
Three winners will receive one free deck of Boom Cards and a $15 Boom Learning voucher.
Two winners will each receive a $10 TpT gift card.
How to Enter the Boom Cards Bonanza Giveaway
1. Browse and preview my Boom Cards on TpT.
Click over to my Boom Cards category on TpT to see full previews of every deck. All Boom Card product pages show thumbnail images of the cards, and some decks have video previews, too. To see what I mean, preview Amy's new Balanced Equation Addition and Subtraction Boom Cards. Click the Play button under the main image to watch a short video preview, and click the thumbnail image next to it to see all 30 cards in the deck.
2.  Add a Boom Card product to your TpT wishlist.
When you find a set of Boom Cards in my TpT store that you'd love to own, click the Add to Wish List link on the page (red arrow below). Then right-click on the URL at the top (purple arrow below) and copy the link. Click here to preview one of Wendy's decks of Boom Cards, Volume of Rectangular Prisms. If you like it, add it to your wishlist!
3. Enter the giveaway before midnight on Monday, August 3rd.
When you find a set of Boom Cards that you want to win, enter the Boom Cards Bonanza Giveaway, by filling out the Google Doc form entry form no later than midnight on Monday, August 3rd. In step 2 above, you copied the URL of the Boom Cards you added to your wishlist, so be sure to paste that URL into the Google Doc form where it's requested.
4. Add another Boom Cards product to your wishlist and enter again!
To increase your chances of winning, you can add another deck of Boom Cards from my TpT store to your wish list and enter the giveaway again! You can enter as many times as you like, but be sure to fill out a separate Google Doc entry form for each product you enter. All entries must be submitted by midnight on Monday, August 3rd. 
5. Check your email in the morning on August 4th to find out if you're a lucky winner!
Six winners will be chosen in a semi-random drawing from all eligible entries. Remember that each entry must include the name of one Boom Cards product from Laura Candler's TpT store, why you want to win it, and its URL. After the giveaway ends, I'll read all entries and randomly select 10 finalists. Then I'll personally select the grand prize winner and three additional winners based on their reasons for wanting to win the product they entered.
I'll announce the winners' names in an email that will go to all Candler's Classroom Connections subscribers on Tuesday, August 4th. Look for that email first thing in the morning, and if you're a lucky winner, be sure to claim your prize within 24 hours! The grand prize winner will receive 5 decks of Boom Cards from my store and a $15 Boom Learning voucher! The other winners will receive one deck of Boom Cards and a $15 Boom Learning voucher or a $10 TpT gift card.
Now that you know how to enter the giveaway, it's time to get started! Head over to the Boom Cards category in my TpT store and start browsing!
Disclaimer: This is a special giveaway for subscribers of Candler's Classroom Connections, so if you're not on my email list, you'll need to sign up before you enter. You'll receive a  welcome message with a link to a private page with to over 75 of my very best freebies for teachers, so that's immediate win!