40 Hour Teacher Workweek Membership Giveaway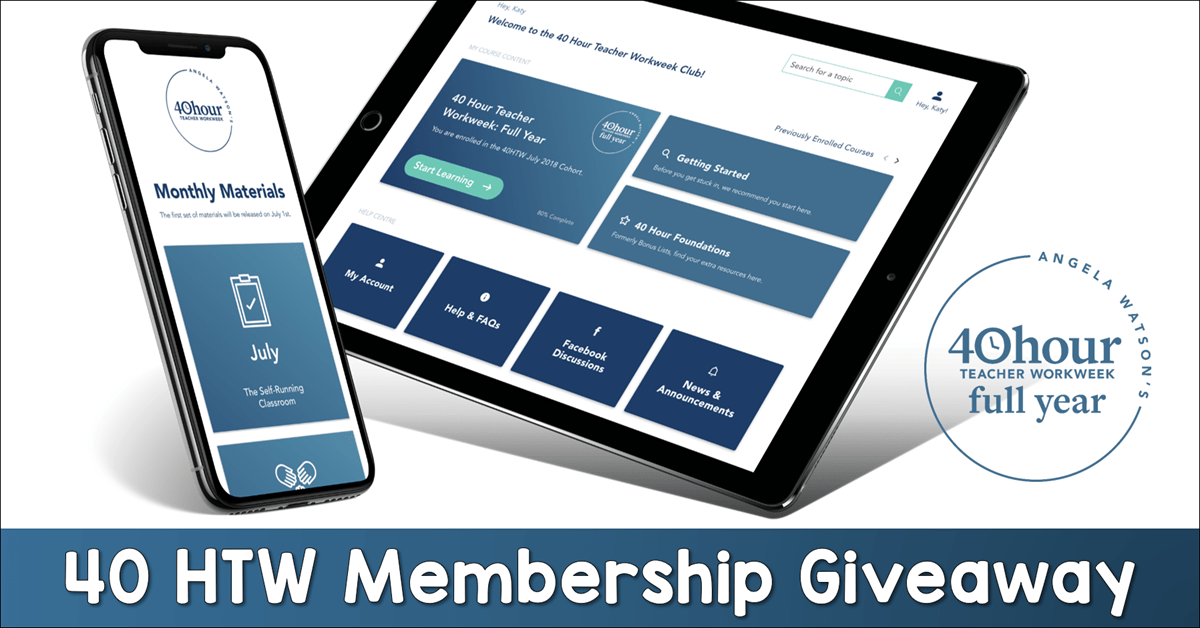 I'm excited to announce that Angela Watson's 40 Hour Teacher Workweek Club  will soon be open to new members! I've been raving about this professional development program for years because I truly believe that it's a life-changing resource for educators. Membership isn't free, but it's worth every penny of your investment. The 40 HTW program only accepts new members once a year, usually starting on July 1st. But this year you can sign up for early bird access as early as June 13th. And if you're lucky, you might even be able to join for free! Read on to learn more about the 40HTW program and how you could win a free membership.
The 40 Hour Teacher Workweek is a teacher productivity course that has helped over 32,000 teachers find work/life balance. Wait, what? Yes! Believe it or not, over 32,000 teachers have enrolled in this program and are now reaping its benefits! If you aren't familiar with how it works, click over to the 40 HTW membership page and explore the resources there. Be sure to read the glowing testimonials from teachers who have already joined because their insights will help you decide if the program is right for you.
If you're convinced that the 40 Hour Teacher Workweek is exactly what you need to achieve work/life balance, enter the giveaway now and you might win a membership!
How to Enter the 40 HTW Membership Giveaway
To submit your entry, fill out this Google Doc entry form no later than 10 pm ET on Saturday, June 12th. Explain why you want to win a membership in the 40 Hour Teacher Workweek, and how you expect to benefit from the resources. In your entry, please share the grade level and/or subject area you teach, too. The more detail you include in your entry about why you want to win, the better your chances of winning.
Important Giveaway Details  
You may write as much as you'd like in your entry, but you many only enter once. If you plan to write a long response to the question about why you want to win, you may want to compose it with a word processing program and then copy and paste it into the entry field.
The giveaway will end at 10 p.m. ET on July 12th.
40 HTW membership is not transferable, so only enter if you want to become a member yourself. If you're already a member and you know someone who could benefit from joining the club, please share the giveaway details with them.
The winner will be chosen in a semi-random drawing. After the giveaway ends, I'll use a random-selection method to choose 10 finalists from all eligible entries. After reading the 10 finalists' entries, I'll personally select the winner.
This giveaway is only open to my email subscribers, so if you're not already on my email list, be sure to sign up here before you enter.  (You'll get immediate access to over 75 free teaching resources, too!)
On Sunday, June 13th, I'll send an email to Candler's Classroom Connections subscribers to announce the winner's name.
Are you ready to achieve work/life balance? Angela Watson's 40 Hour Teacher Workweek Program has the all the tools you need to make it happen! You might get lucky and win a free membership, but even if you don't, I encourage you to purchase a membership on your own. I guarantee that if you join and commit to using the resources, you'll transform your teaching experience forever!
Disclaimer: The links in this post are affiliate links which means I earn a commission if you purchase a 40 Hour Teacher Workweek  membership after clicking on my link. However, I can promise you that I would never promote a product or service if I didn't believe in it 100%. Angela is the creator of The Cornerstone For Teachers blog, and if you follow her, you'll know she's amazing.