40 Hour Teacher Workweek Fast Track Offer

If you sometimes feel that teaching consumes your life, check out Angela Watson's 40 Hour Teacher Workweek Fast Track course because there IS a better way! If you're willing to innovate and make small changes in your daily routines, you can learn how to get more done in less time so that you're not running on empty at the end of each day. The 40 HTW Fast Track course is a 6-week condensed version of Angela's year-long 40 HTW Club, and it's perfect for teachers who want fast results now.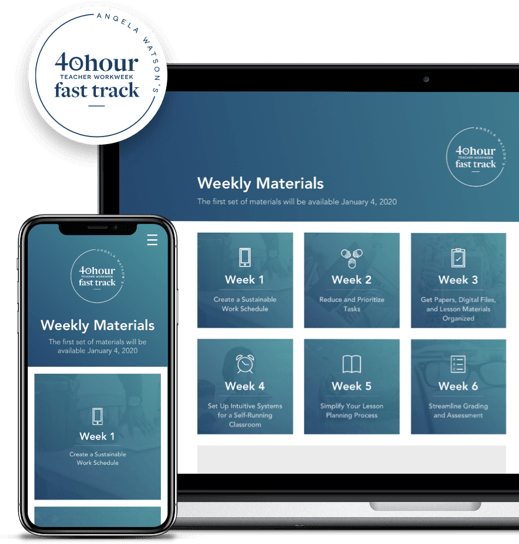 I'm an affiliate of the 40 HTW Club, and I actively promote the program because I've seen how it's impacted thousands of teachers. The Fast Track version is new, and I know it will be highly effective, too! ~ Laura Candler
Fast Track Enrollment Ends January 9th!
Click this link or the button below to learn more and sign up now!

40 HTW Fast Track Bonus Offer – $10 Coupon for Teaching Resources!
To give you a little extra incentive to sign up for the 40 Hour Teacher Workweek Fast Track program, I'll send you a coupon for $10 worth of Laura Candler's Teaching Resources when you enroll! You can use the coupon in my website store to get up to $10 worth of products for free or take $10 off a larger purchase. This offer is only open to my email subscribers, so if you aren't a current subscriber, please click here and sign up before submitting your request.
How to claim your $10 Coupon Bonus:
If you haven't purchased the 40 HTW Fast Track program yet, click the join button above or this link and purchase the course no later than January 9, 2020.
Email your 40 HTW Fast Track receipt of purchase to me at 40htwclub@lauracandler.com.
Fill out this Google Doc form no later than January 15, 2020, and I'll send you a $10 coupon to use in my Teaching Resources store. You can use it to obtain $10 worth of resources for free, or take $10 off a larger purchase amount. Note: This coupon will only work for my store here on Teaching Resources. It won't work on TpT.
Where to Learn More
Explore these informative resources from Angela Watson: